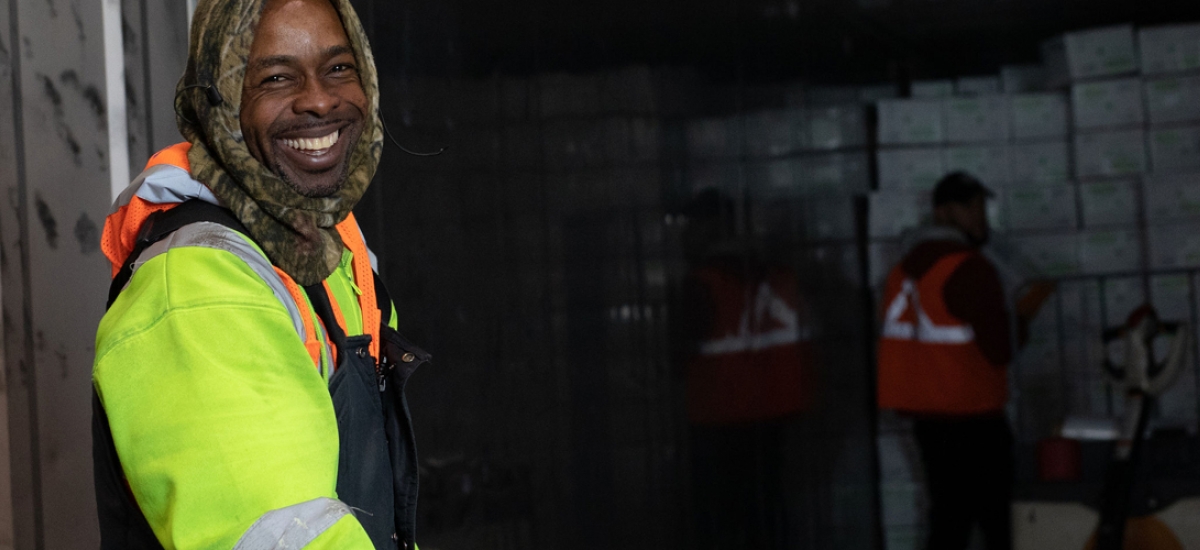 It's Always Time To Put People First
February 03, 2021
The world now sees our Team Members the way we always have ­— as everyday heroes doing the vital work of keeping the global food supply chain moving. Just like doctors and nurses serve as the backbone of the health care system, our Team Members are the frontline workers who ensure grocery store shelves and freezers stay full – and food gets to tables across the globe.
As we continue into 2021 and a second year under COVID-19 conditions, essential workers in every industry will continue to be called upon. Now more than ever, it's the responsibility of companies to both celebrate the accomplishments of and do what's right for their people. As our President and CEO, Greg Lehmkuhl, wrote in his recent outlook piece, "Walking the talk will be expected in 2021." At Lineage, we have always prided ourselves on having a strong culture and will continue to build off of a foundation that puts our Team Members first – one that values their safety, rewards their efforts and inspires them with purpose.

SAFE is our #1 value. And #1 commitment to Team Members.

In every warehouse, on every shift, our No.1 value as a company is SAFE. As Donte Mosley, Human Resources Business Partner at our Agua Mansa, CA facility explains, "If it's not safe to do, we don't do it." In the face of COVID-19, this has meant revisiting our operations and processes to always put the health of our Team Members, their families and our communities first. To make the work we do as safe as possible, Lineage sought out globally-recognized experts, and global perspectives from across our network, to develop a playbook of protocols that was quickly put into action across our network. We fastidiously cleaned equipment and remapped floor plan layouts to ensure proper social distancing. We implemented temperature checks, brought in mobile COVID-19 testing and medical units, and granted paid sick leaves to Team Members who needed to quarantine. The result is an industry-leading standard for COVID-19 safety protocols that other companies have modeled their response after – and one we're committed to following in 2021 to ensure the safest environment possible as we patiently, but eagerly, wait for the pandemic to subside.

Our appreciation is clear and real.

While our entire company worked toward ensuring a safe workplace to keep the world's food supply chain moving, we never lost sight of the importance of celebrating the efforts of our Team Members. Acknowledging their contributions and keeping morale high are always top priorities. At the onset of the pandemic, we awarded "Fulfilling Our Purpose" pay bonuses and provided sponsored lunches to workers. At a time when it would have been easy to turn attention elsewhere, we doubled down on culture and made sure long-standing employee recognition programs, such as the handing out of Value Cards, remained a part of daily shift meetings to ensure company values stayed top of mind. We also continued to offer paths for Team Members to grow their careers as we grow our company. Fiona Collins, our Human Resources Director in the United Kingdom confirms "Team Members see Lineage as an employer for the future." At Lineage, we are committed to ensuring our Team Members feel appreciated for all that they bring to our company and the work that we do. Because when one person makes a difference, we all share the benefits.

It always comes back to purpose.

At Lineage, our purpose to transform the food supply chain to eliminate waste and help feed the world motivates everything we do. Day after day, shift after shift, our purpose drives us and gives us a reason to push forward. It's our guidepost and a goal we can't achieve without the collective efforts of thousands of Team Members across the globe – each person being a critical link in the food supply chain. As Mosley continues, "When our Team Members go to the grocery store, we want them to know that they did this. They and their coworkers helped get this food to people."  

While talking about a purpose is important, it has to be more than words. Companies have to ensure it's felt across their culture. Christine Rees-Zecha, Lineage's Director, Operations and Sales Human Resources, sums up our approach by saying, "It's great to be part of a company that lives its values. That takes it to the next level and puts in the hard work. It's not just lip service."

To our Team Members: We give our thanks and more.

From health care workers to educators to postal workers, the essential workers we all depend on are now having their long overdue moment in the spotlight. The world is watching how companies contribute to the lives of their employees and the role they play in improving the communities they do business in. In 2021, Lineage will continue to strive to be a company that people want to work for and with. One that continually invests in protecting the well-being of our Team Members, helps them find empowerment and satisfaction, and provides opportunities for their personal career growth – as we always have. It's the most meaningful way we know of to say thank you.