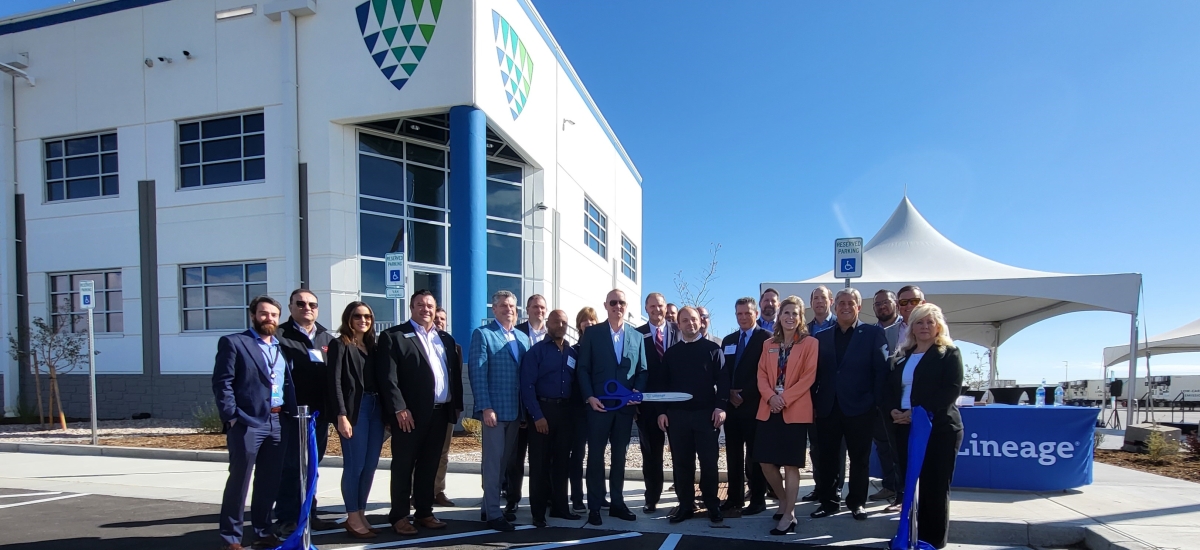 Press
//
Business Development
New facility will serve as a strategic distribution hub for JBS and expands Lineage's network of automated facilities worldwide
October 11, 2023
Windsor, CO – October 11, 2023 –  Lineage, one of the world's leading temperature-controlled industrial REITs and integrated solutions providers, today celebrated the grand opening of its newest facility in Windsor, Colorado. Built for long-time customer JBS USA, a leading global food company, Lineage developed the facility to support the distribution of products to JBS customers.

The next-generation, fully automated facility in Windsor expands Lineage's network of strategically located automated facilities worldwide. Lineage's automated warehousing solutions combine cutting-edge technology, applied sciences and innovative thinking to create greater efficiency, improve the quality of food products while in storage, and reduce energy consumption and food waste – efforts that will also contribute to cost efficiencies for JBS over time.

"For the past year, we've worked closely with JBS and the great Town of Windsor to construct a state-of-the-art facility that helps strengthen JBS's supply chain to get food on consumers' tables, and we could not be prouder of the outcome," said Greg Lehmkuhl, President and Chief Executive Officer at Lineage.

The new warehouse is designed to help lower energy consumption and reduce food waste by storing product in a denser, more energy efficient cube and automating decision-making to optimize loading, unloading and storage tasks. The automated cold-storage is outfitted with proprietary warehouse management systems, computer vision systems, algorithms, visibility platforms and machine learning capabilities that will support JBS as the company further optimizes its supply chain.

"We are excited to celebrate this milestone in partnership with Lineage and the Town of Windsor," said Wesley Batista Filho, CEO at JBS USA. "This facility allows us to provide high-quality food products to our customers in an increasingly efficient way using the latest technology."

Lineage and JBS broke ground on the facility in April 2022 in partnership with the Town of Windsor and Upstate Colorado Economic Development. The completed facility spans approximately 200,000 square feet and includes more than 20,000 pallet positions. The project resulted in a more than $100 million investment that yielded the creation of approximately 70 new jobs.
---
About Lineage
Lineage is one of the world's leading temperature-controlled industrial REITs and integrated solutions providers with a global network of over 400 strategically located facilities, totaling more than 2.5 billion cubic feet of capacity across countries in North America, Europe, and Asia-Pacific. Coupling industry-leading expertise in end-to-end logistical solutions and innovative technology, Lineage partners with the world's largest food and beverage companies to increase distribution efficiency, advance sustainability, minimize supply chain waste, and, most importantly, help feed the world. In recognition of the company's leading innovations and sustainability initiatives, Lineage has been named a CNBC Disruptor 50 Company for three consecutive years, twice named a US Best Managed Company, named the No. 1 Data Science company, and 23rd overall, on Fast Company's list of The World's Most Innovative Companies, and was included on Fortune's Change the World list. (www.onelineage.com)
About JBS USA
JBS USA is a leading global food company providing diversified, high-quality products to customers in approximately 100 countries on six continents. This includes meat and poultry products, a portfolio of recognized brands and innovative premium foods. JBS USA is also a majority shareholder of Pilgrim's, the largest poultry producer in the world. Visit jbsfoodsgroup.com to learn more.
Media Contacts:
Lineage
Christina Wiese
734-608-1855
cWiese@onelineage.com