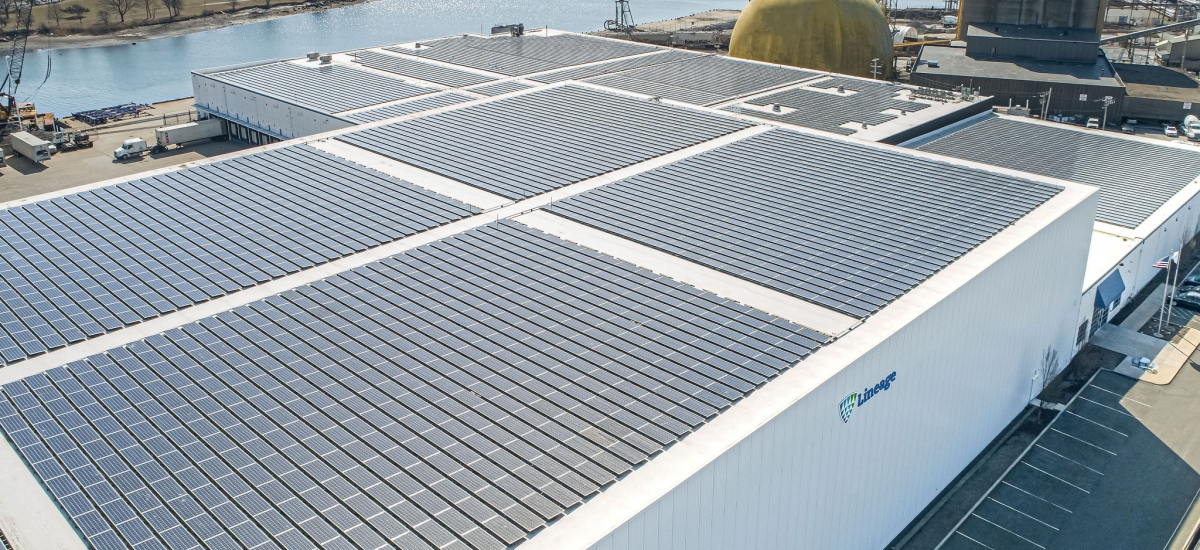 Lineage Recognized by the U.S. Department of Energy's Better Plants Program with a 2021 Better Practice Award
May 19, 2021
Lineage was recognized for its success in energy procurement and hedging, which reduces energy costs from two to six percent at participating sites
The award marks the third consecutive year Lineage has been recognized by the U.S. Department of Energy for outstanding energy efficiency innovations
Novi, MI – The U.S. Department of Energy (DOE) recognized Better Plants partner Lineage, LLC ("Lineage" or the "Company"), for its success in energy procurement and for cultivating an innovative data science team that has earned 14 patents and saved millions of dollars in annual energy costs. As part of DOE's Better Buildings Initiative, Better Plants works with leading manufacturers and water and wastewater treatment agencies to boost their competitiveness through improvements in energy efficiency.

The annual Better Practice Awards are bestowed upon partners for innovative and industry-leading accomplishments in implementing and promoting practices, principles, and procedures of energy management. Over the past two years, Lineage's Data Science team has developed algorithms to analyze site load profiles and electricity rates to determine the optimal amount of fixed-rate energy procurement in deregulated markets. In 2020, the first iteration of Lineage's work on energy procurement and hedging produced energy bill savings of 2-6% at participating sites.

"Our data science team, in partnership with Lineage's team of talented technologists, continues to push the boundaries of what is possible in temperature-controlled logistics, and their collective work has helped cement Lineage as an innovator in both data science and the industry at large," said Sudarsan Thattai, Lineage's Chief Information Officer. "We couldn't be prouder to be recognized by the U.S. Department of Energy's Better Plans Program for the third consecutive year and are excited to continue to challenge the status quo."

"Better Plants partners are implementing innovative energy, water, and waste reduction solutions in the industrial space that are cutting costs and energy use while supporting job creation, combating the climate crisis, and driving a clean energy future in the U.S. The Better Plants Better Practice and Better Project awards honor their leadership," said Dr. Michael McKittrick, acting director, Advanced Manufacturing Office, U.S. Department of Energy.

In 2020, the U.S. DOE recognized Lineage for optimizing its blast freezing process, reducing freeze times by up to 50% and improving blast energy efficiency by up to 20% in a facility freezing beef products. Additionally, in 2019, the U.S. DOE recognized Lineage for pioneering a new and innovative way to improve energy productivity using a process the Company calls "flywheeling," which proactively manages energy consumption using proprietary machine-learning and scheduling optimization algorithms to reduce both cost and waste.

As part of the broader Better Buildings Initiative, Better Plants partners voluntarily set a long-term goal, typically to reduce energy intensity by 25 percent over a 10-year period across all their U.S. operations. DOE supports these efforts with technical expertise and national recognition.

Lineage and other 2021 Better Practice Award winners, such as General Motors and Saint-Gobain Corporation, were formally recognized at the 2021 Better Buildings, Better Plants Summit – a virtual leadership symposium – on May 19, 2021.

Read more about Better Plants partner results, showcase projects, and innovative solutions being shared with others in the 2020 Better Plants Progress Update.
About Lineage
Lineage is the world's largest and most innovative temperature-controlled industrial REIT and logistics solutions provider. Lineage's expertise in end-to-end logistical solutions, its unrivaled real estate network, and its use of technology combine to promote food safety, increase distribution efficiency, advance sustainability, lessen environmental impact, and minimize supply chain waste. As a result, Lineage helps customers ranging from Fortune 500 companies to small family-owned businesses increase the efficiency and protect the integrity of their temperature-controlled supply chain. Lineage has grown its cubic feet by 60% annually since 2008 to 2.1 billion cubic feet, making it the largest global temperature-controlled industrial REIT. In recognition of the company's leading innovations, Lineage was recognized as the No 1. Data Science company on Fast Company's Annual list of The World's Most Innovative Companies in 2019, in addition to ranking 23rd overall in an evaluation of thousands of companies worldwide. (www.lineagelogistics.com)