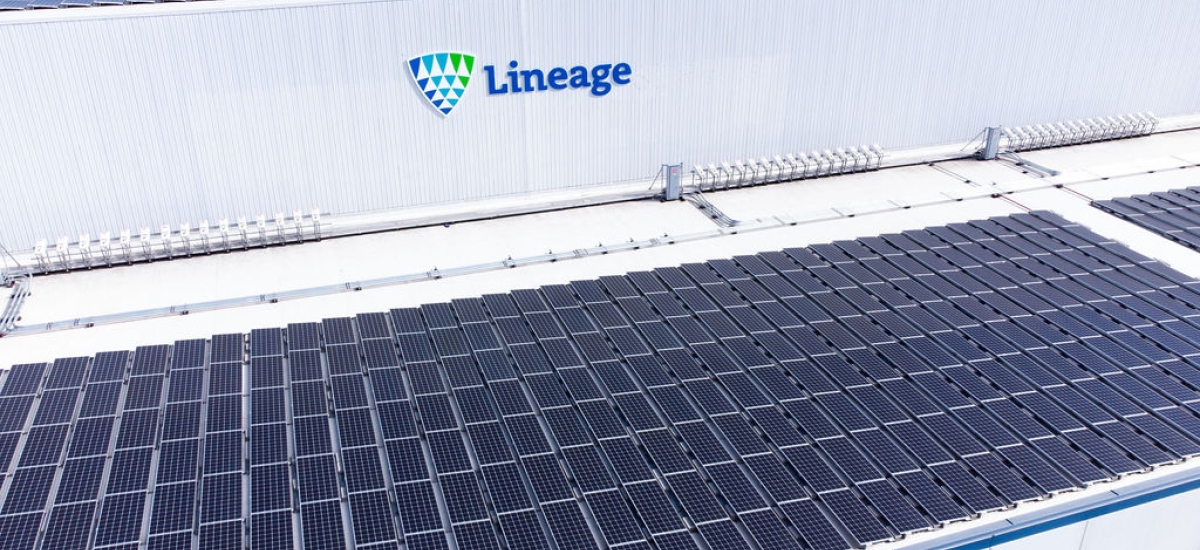 Press
//
Awards
//
Business Development
//
Enhancements
Solar Energy Industries Association Ranks Lineage as a Top Adopter of Solar in the U.S.
New report revealed Lineage ranks fifth for on-site solar adoption and 22nd overall for total solar adoption
Ranking reflects the Company's commitment to decarbonizing its operations and improving energy efficiency
November 29, 2022
NOVI, Mich.--(BUSINESS WIRE)--Lineage, LLC (or the "Company"), the world's largest temperature-controlled industrial REIT and logistics solutions provider, ranked fifth for on-site solar adoption and 22nd overall for total solar adoption in the U.S., according to the Solar Energy Industries Association's (SEIA) Solar Means Business 2022 report.
The Solar Means Business Report tracks commercial solar installations, detailing how major corporations are using solar energy in the U.S. Capturing over 70% of all U.S. commercial solar capacity through June 2022, this year's report revealed American companies are installing record-levels of solar power in their operations, accounting for 14% of all installed solar capacity in America. The rankings in the report distinguish companies who physically install solar from those that purchase off site.
"With over 400 strategic locations worldwide, we continue to explore solutions to help mitigate the impact of our operations on the environment and reduce our energy consumption. The adoption of solar energy has been a central part of this strategy," said Chris Thurston, Director of Energy and Sustainability at Lineage. "Given our position within the global food ecosystem, we are pleased to be recognized for our commitment to improve our energy efficiency across and support the decarbonization efforts of the global food supply chain."
Installing solar throughout its network of facilities is only the beginning of Lineage's plan to decarbonize its operations. To date, the Company's solar projects offset 40% of a site's total energy usage, which is equivalent to generating energy for roughly 12,000 homes per year. While the SEIA report only focuses on the U.S., Lineage continues to grow its solar portfolio globally with over 20 projects spanning North America, Europe, Australia, and Asia.
Findings from this year's report revealed that U.S. businesses have installed nearly 19 gigawatts (GW) of on-site and off-site solar capacity, which is double the 9.4 GW installed through 2019. This growth is attributed to the expansion of off-site corporate solar usage, which now represents 55% of all commercial solar use.
To download the full SEIA report, view the interactive charts and explore the report's underlying data, please visit: www.SolarMeansBusiness.com.
---
About Lineage
Lineage is the world's largest temperature-controlled industrial REIT and logistics solutions provider. It has a global network of over 400 strategically located facilities totaling over 2 billion cubic feet of capacity, which spans 20 countries across North America, Europe, and Asia-Pacific. Lineage's industry-leading expertise in end-to-end logistical solutions, its unrivaled real estate network and the development and deployment of innovative technology help increase distribution efficiency, advance sustainability, minimize supply chain waste, and, most importantly, as a Visionary Partner of Feeding America, help feed the world. In recognition of the company's leading innovations and sustainability initiatives, Lineage was a 2022 U.S. Best Managed Company, No. 3 in the 2022 CNBC Disruptor 50 list, No. 17 in the 2021 CNBC Disruptor 50 list, the No 1. Data Science company, and 23rd overall, on Fast Company's 2019 list of The World's Most Innovative Companies, in addition to being included on Fortune's Change The World list in 2020. (www.onelineage.com)
About SEIA®:
The Solar Energy Industries Association® (SEIA) is leading the transformation to a clean energy economy, creating the framework for solar to achieve 30% of U.S. electricity generation by 2030. SEIA works with its 1,000 member companies and other strategic partners to fight for policies that create jobs in every community and shape fair market rules that promote competition and the growth of reliable, low-cost solar power. Founded in 1974, SEIA is the national trade association for the solar and solar + storage industries, building a comprehensive vision for the Solar+ Decade through research, education and advocacy. Visit SEIA online at www.seia.org and follow @SEIA on Twitter, LinkedIn and Instagram.
Contacts:
Lineage
Christina Wiese
734-608-1855
cWiese@onelineage.com