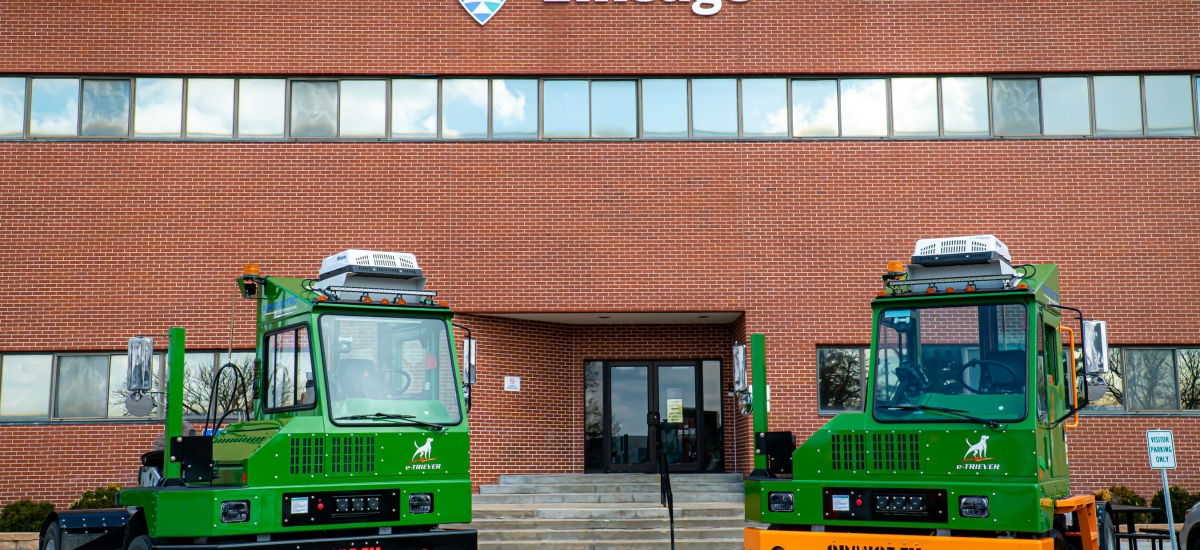 Hirschbach Motor Lines and Lineage Further Reduce Carbon Footprint with Orange EV Electric Yard Trucks
Partnership to deploy heavy-duty electric trucks reflects commitment to innovation and supply chain sustainability
April 05, 2023
DUBUQUE, IA, NOVI, MI, and KANSAS CITY, MO (April 4, 2023) – Hirschbach Motor Lines and Lineage today announced the deployment of five Orange EV electric yard trucks to Lineage facilities in the greater Kansas City area. The move is another noteworthy step in the companies' sustainability journeys, adding to a diverse array of measurable, impactful carbon reduction and efficiency initiatives.

Hirschbach, whose core mission is to strengthen communities by providing safe, reliable, and innovative transportation solutions, is providing zero-emission spotting services for two Lineage facilities in Kansas. An industry leader in freight supply chain efficiency, Hirschbach has won multiple EPA SmartWay Excellence Awards, in part by aggressively reducing empty route miles and idling time to reduce emissions and maximize fuel economy.

"The Spot by Hirschbach team has been focused on bringing technology into the customer yards that we service, and Orange EV's electric yard trucks are an exciting next step for us to continue to do the right thing for our customer, our driver team, and the environment," said Kevin Lage, Hirschbach's Sr Director Commercial Team. "Our goal is to have 20% of our spotter fleet converted to EV by Q3 of 2023."

With its core business devoted to storing, handling, and transporting temperature-controlled food products in the United States, Lineage has long been focused on energy efficiency. The company participates in the U.S. Environmental Protection Agency's (EPA) SmartWay® Transport Partnership. Lineage has also been recognized by the U.S. Department of Energy for four consecutive years and received a Better Project Award in 2022. Carbon reductions go hand-in-hand with decreases in energy consumption, and each of Lineage's "Million Little Things" efforts add up, helping to meet their Climate Pledge commitment to be net-zero carbon emissions by 2040.

"As the world's leading temperature-controlled industrial REIT and logistics solutions provider, Lineage plays a significant role in the global food supply chain. Accordingly, we have and always will take our commitment to sustainability seriously," said Jim Thompson, Vice President of Transportation and Logistics at Lineage. "We are proud to partner with companies like Hirschbach and Orange EV to further reduce our carbon emissions."

Orange EV trucks utilize electricity, the most carbon efficient vehicle fuel on the market today, and have a maximum powertrain efficiency of more than 90%. At the Lineage sites in Kansas, Hirschbach operates Orange EV yard trucks up to 20 hours a day, 6 days a week. Under these heavy-use conditions, switching from diesel to electric eliminates more than 100 tons of carbon dioxide per truck annually along with diesel particulate matter, nitrogen oxides, and other pollutants emitted as a result of diesel combustion.

"Increasing supply chain efficiency can sometimes require considerable reimagining of operations," said Zack Ruderman, Orange EV VP of Sales and Marketing. "Switching to electric yard trucks, however, can be a seamless transition. We are proud to work with fleets like Hirschbach and Lineage who embrace innovation, are committed to the environment, and understand the myriad benefits of electric operation."

To further reduce carbon emissions, Lineage has deployed ten additional Orange EV yard trucks at sites in California. Five of those Lineage-owned units operate at the Lineage Colton-Agua Mansa facility which is notable for its groundbreaking clean energy advancements. Located in Colton, Calif., this is the first facility in the Lineage network able to produce 100% of its energy consumption onsite.
---
About Hirschbach Motor Lines
Founded in 1935, Hirschbach Motor Lines is an industry-leading carrier delivering state-of-the-art transportation solutions for more than 80 years. Hirschbach offers experienced, refrigerated truckload services to all 48 states along with dedicated transportation solutions and innovative specialized services. With a fleet of 2000+ trucks, 3,500+ trailers, and multiple terminal locations, Hirschbach continues to grow and expand into new service areas. For more information, visit www.hirschbach.com.
About Lineage
Lineage is the world's largest temperature-controlled industrial REIT and logistics solutions provider. It has a global network of over 400 strategically located facilities totaling over 2 billion cubic feet of capacity, which spans 20 countries across North America, Europe, and Asia-Pacific. Lineage's industry-leading expertise in end-to-end logistical solutions, its unrivaled real estate network and the development and deployment of innovative technology help increase distribution efficiency, advance sustainability, minimize supply chain waste, and, most importantly, as a Visionary Partner of Feeding America, help feed the world. In recognition of the company's leading innovations and sustainability initiatives, Lineage was a 2022 U.S. Best Managed Company, No. 3 in the 2022 CNBC Disruptor 50 list, No. 17 in the 2021 CNBC Disruptor 50 list, the No 1. Data Science company, and 23rd overall, on Fast Company's 2019 list of The World's Most Innovative Companies, in addition to being included on Fortune's Change The World list in 2020. (www.onelineage.com)
About Orange EV
Orange EV, headquartered in Kansas City, MO, is the leading OEM providing industrial fleets with heavy-duty, electric vehicle solutions proven to save money while being safer, more reliable, and preferred by drivers and management. Orange EV trucks meet the most rigorous duty cycles and 24/7 shift schedules while eliminating diesel fuel and emissions. Building both new and re-powered terminal trucks, Orange EV was the nation's first manufacturer offering 100 percent electric Class 8 vehicles to be commercially deployed and scaled. Since first commercially deployed in 2015, Orange EV's terminal trucks have been chosen by more than 170 fleets across 33 states, Canada, and the Caribbean, surpassing 8.6 million miles and 2.6 million hours of operation. For more information, please visit www.orangeev.com.
Hirschbach Motor Lines Media Contact:
Lauren Hoversten
Public Relations Manager
lauren.hoversten@hirschbach.com
Lineage Media Contact:
Christina Wiese
Public Relations Manager
(734) 608-1855
cWiese@onelineage.com
Orange EV Media Contact:
Len Fernandes
Firecracker PR
(888) 317-4687 ext. 707
len@firecrackerpr.com