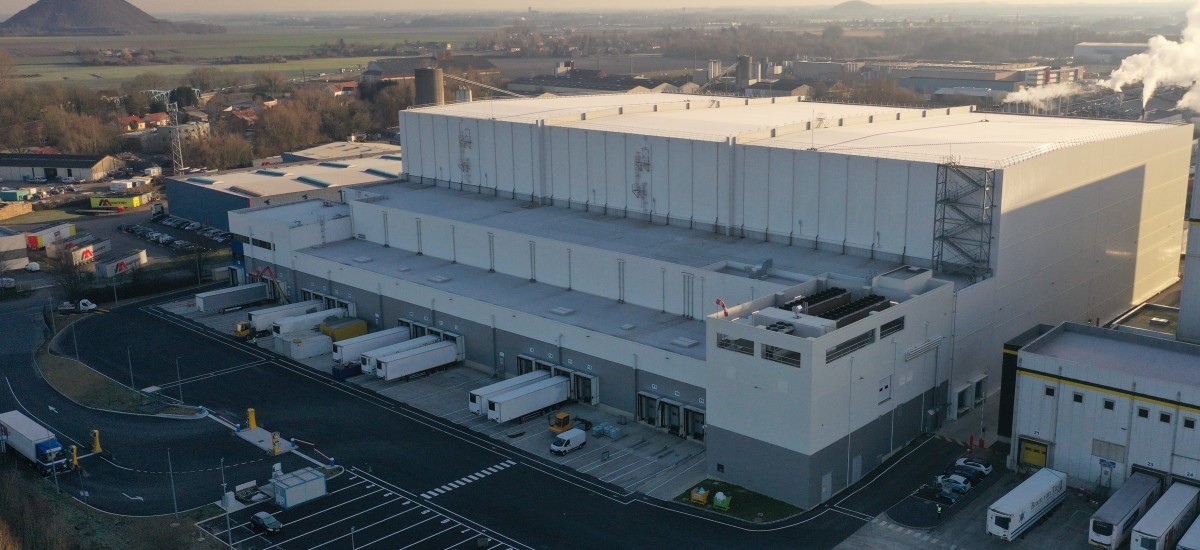 Lineage Expands its European Footprint with New State-Of-The-Art Facility in France
New state-of-the-art facility in Harnes to serve customer needs in logistics hub at the crossroads of major European transportation links
Enhanced with cutting-edge automation and energy-efficient solutions for the safe and streamlined storage and transfer of food
Seamlessly connected with the existing warehouse on-site, Harnes I, utilizing automated guided vehicles (AGV) for efficient operations
November 08, 2023
HARNES, FRANCE – 8 November 2023 – Lineage, one of the world's leading temperature-controlled industrial REITs and integrated solutions providers, officially opened its state-of-the-art facility in Harnes, France. The new facility has a footprint of approximately 17.000 square meters – equivalent to over three football fields – and strengthens Lineage's network in France, offering a valuable gateway to European markets.

"The newest Harnes facility, strategically located in the Hauts-de-France region, is a key node in Lineage's smart global cold chain network and a testament to our commitment to helping service our customers' needs", said Harld Peters, President of Lineage Europe.

Lineage's Harnes II site offers modern cold storage through advanced automation and innovative technologies. Equipped with cutting-edge systems optimizing refrigeration use and harnessing waste heat, the facility helps to ensure safe and efficient storage and transfer of food products. Automated guided vehicles seamlessly connect this modern facility with additional storage at the existing warehouse on-site, Harnes I, while an electric shuttle efficiently links customers directly with Lineage. These solutions help minimize energy use and heat loss while maintaining product safety.

"We are enhancing cold chain connections and driving efficiency for our customers. Harnes II benefits from strong support from our nearby warehouse in Arrás, which serves as a satellite facility for occasional needs and has a primary focus on picking services. We are excited to provide our customers with the added value of these two complementary sites," said Raúl Fores Valles, Regional Vice President, Southern Europe, Lineage.

With the addition of the Harnes II facility, Lineage provides businesses in France with automated storage solutions and seamless connections to over 400 strategically located facilities worldwide, spanning North America, Europe, and the Asia-Pacific region. In 2021 Lineage completed the acquisition of the Kloosterboer Group, including its facilities in France, the Netherlands, and Germany, reinforcing its commitment to delivering industry-leading cold storage solutions to businesses worldwide.
 
---
About Lineage
Lineage is one of the world's leading temperature-controlled industrial REITs and integrated solutions providers with a global network of over 400 strategically located facilities, totaling more than 2.5 billion cubic feet of capacity across countries in North America, Europe, and Asia-Pacific. Coupling industry-leading expertise in end-to-end logistical solutions and innovative technology, Lineage partners with the world's largest food and beverage companies to increase distribution efficiency, advance sustainability, minimize supply chain waste, and, most importantly, help feed the world. In recognition of the company's leading innovations and sustainability initiatives, Lineage has been named a CNBC Disruptor 50 Company for three consecutive years, twice named a US Best Managed Company, named the No. 1 Data Science company, and 23rd overall, on Fast Company's list of The World's Most Innovative Companies, and was included on Fortune's Change the World list. (www.onelineage.com)
Media Contact:
Teneo - Paris
José Zaarour
+33 6 18 21 33 88
jose.zaarour@teneo.com

Note to Editors: High-resolution images and further information about Lineage are available upon request.