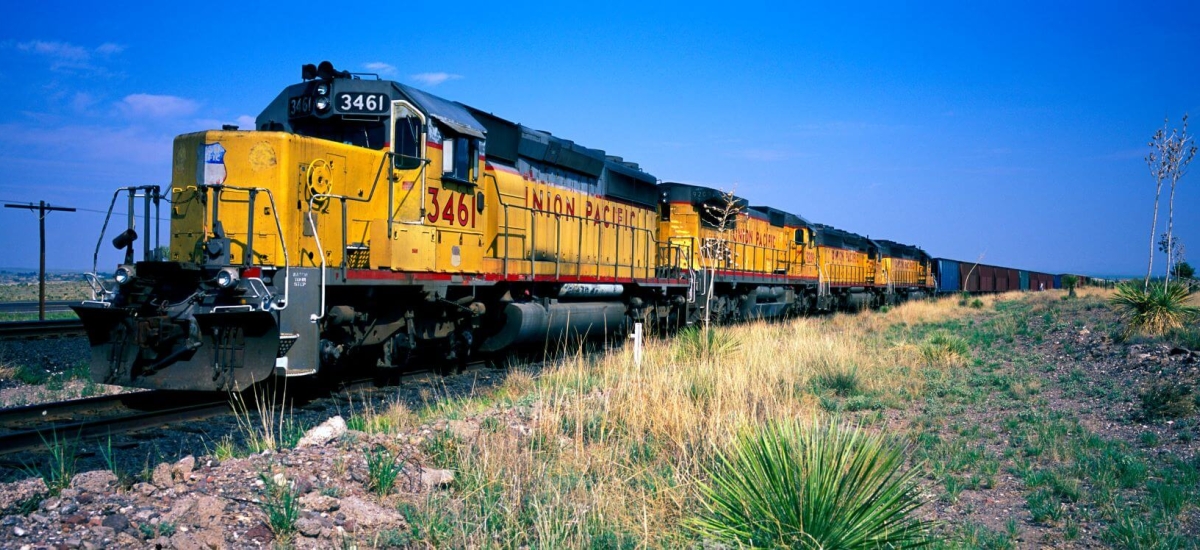 Culture
Full Steam Ahead - Union Pacific's First African American Woman Locomotive Engineer
March 29, 2023
We're excited to continue celebrating the rule-breakers and trend-setters who have blazed a trail for the next generation of women in supply chain logistics. This month, we've talked about fearless females like Lillie Drennan, the OG trucking queen of the USA, and Corinne Vigreux, the French co-founder of TomTom who helped usher in the era of digital maps. This week, we're meeting Edwina "Curlie" Justus – the first-ever Black woman locomotive engineer at Union Pacific Railroad.
From Daydreamer to Trailblazer
Edwina Justus, affectionately known as "Curlie", was never one to live according to the status quo. As a kid in Omaha during the 1940s and 50s, she was the first-ever Black student to enroll at Brown Park Elementary School. She was an imaginative child with a tendency to daydream, especially during lessons; "A teacher told me I'd never be successful staring out the window; she was wrong."
Promptly after finishing high school in 1960, Edwina went on to study social work at the University of Nebraska. During this time, she got a job as a wireman at Western Electric, connecting consumer electrical systems. This didn't satisfy her. She had her sight set on Union Pacific.
When Edwina first applied to work at Union Pacific, she was turned down because of her gender and race – but she wasn't having any of that. In 1972, she heard about some open clerical positions from a friend and snagged herself a spot. Edwina was hired as a Traction Motor Clerk, making her one of just five Black women working for the company at the time.
From there, it was full steam ahead and in 1976, Edwina made history by becoming the first Black female train conductor for Union Pacific. She and her husband packed up and moved to North Platte, Nebraska, where she spent over two decades hauling everything from livestock to airplane wings. And you better believe she took in every breathtaking view along the way.
Railroading Past Adversity
It wasn't always easy, but being a trailblazer rarely is. Edwina faced serious discrimination and racism during her groundbreaking career as an engineer – but that didn't stop her. She was fueled by her love of the job and her determination to create a space for her, and the millions of women and girls like her. And she succeeded. Becoming the first African-American woman to hold the train engineer job at Union Pacific during the 1970s was a major milestone in a field that was totally dominated by men. But it was just one step during her journey.
After retiring in 1998, she and her husband moved back to Omaha, where she kept on fighting for what she believed in – creating a space for the millions of women and girls like her. In 1996, she even ran for mayor of North Platte and placed third out of six candidates.
And the story doesn't end there. In 2017, Justus met up with Bonnie Leake for the first time, another trailblazing female engineer at Union Pacific, at a "Move Over, Sir: Women Working on the Railroad" exhibit at Union Pacific's Museum in Council Bluffs, Iowa. The exhibit showcased the achievements of both Justus and Leake, along with other women in the industry. Plus, Justus even wrote her own autobiography – "Union Pacific Engineer: An Autobiography of UP's First Black Woman Locomotive Engineer" – which hit the shelves in December 2021. The moral of the story? Edwina "Curlie" Justus was a pioneer who persevered through obstacles and proved that anything is possible if you work hard enough.
Embracing the Next Generation of Fearless Females in Logistics
Edwina "Curlie" Justus, along with Lillie Drennan and Corinne Vigreux, showed us that no challenge is too great to overcome when you have passion, determination and a willingness to break the mold. Their stories inspire us to keep pushing forward, even in the face of adversity, and to never stop dreaming big. As we celebrate Women's History Month and the fearless females who have paved the way for us at Lineage, let's remember that the journey is far from over. There are countless more leaders waiting to make their mark, and we can't wait to see what they accomplish next. So, here's to the Curlies of the world – may we all strive to follow in their footsteps and leave our own lasting legacy.
As we wrap up Women's History Month, we're dedicated to continuing this conversation all year long. That's why, in 2022, we launched our Women in Lineage Logistics (WILL) employee resource group. WILL is focused on fostering a greater sense of inclusion and opportunity for all women throughout Lineage's global team. If you're a Lineage team member and want to learn more about WILL or join, visit our updated ERG Insights page today!
---
Sources for this Article: