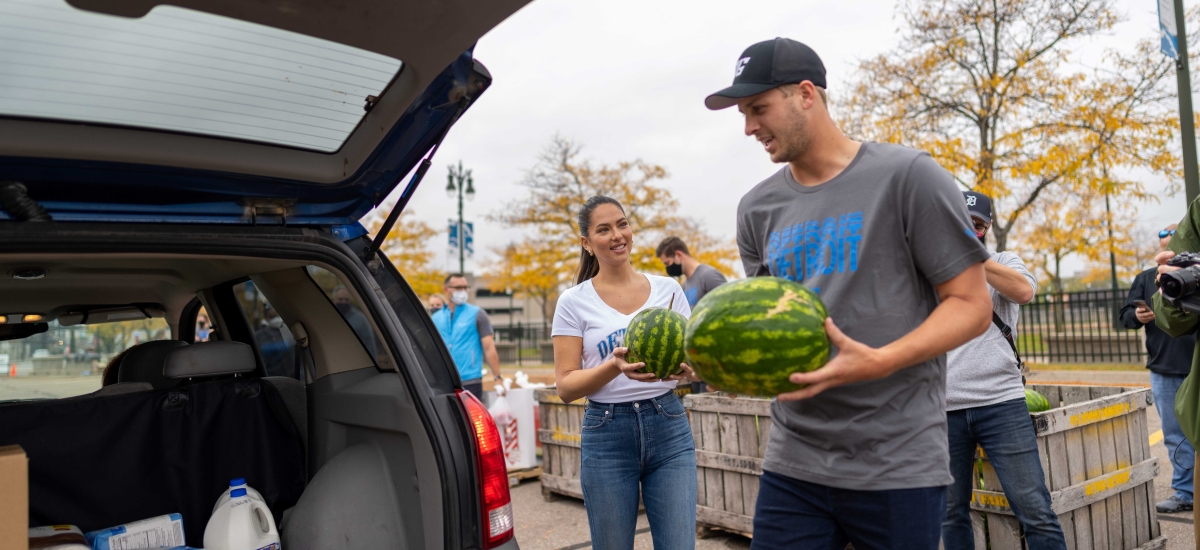 Lineage Foundation for Good Partners with Detroit Lions' Quarterback Jared Goff to Donate Meals
September 06, 2023
Novi, Mich. -- September 6, 2023 – Lineage Foundation for Good (the "Foundation"), the independent philanthropic arm of Lineage, today announced a new partnership with Jared Goff, quarterback for the Detroit Lions and global ambassador for the Foundation. Through this partnership, the Foundation will donate one thousand meals for every touchdown the quarterback throws during away games for the 2023 NFL season. The meals will be donated to local food banks in the respective cities of the away games.
"We couldn't think of a better way to kick off the new NFL season than to partner with Jared Goff to help feed the world," said Hannah Hoskins, Executive Director of Lineage Foundation for Good. "Jared's commitment to the Detroit community through his ongoing philanthropic work directly aligns with our mission to reduce food waste and fight food insecurity globally. We are thrilled to collaborate on the positive impacts he brings to even more communities nationwide. He's the real MVP."
As an emeritus board member of the Lineage Foundation for Good and currently serving as the organization's global ambassador, Jared has an extensive history of charitable giving to local communities ranging from Detroit to L.A. During his time with the Los Angeles Rams, he collaborated with California Strong to assist families impacted by wildfires. In 2020, amid the COVID-19 pandemic, Goff and former teammate Andrew Whitworth funded two million meals for the Los Angeles Regional Food Bank. In 2021, he was named the NFL Players Association's community MVP for his remarkable donation of forty thousand pounds of fresh food and supplies to support those in need in Detroit. In 2022, Jared collaborated with Give Merit's FATE program to design an apparel collection and deliver sales proceeds to the program's scholarship fund.
"I've loved being involved with Lineage and their foundation for several years now to make a difference in Detroit," said Jared Goff, Detroit Lions' quarterback. "I couldn't be more excited to expand our efforts for a national initiative to put food on the table for those in need. Scoring touchdowns will mean a little more this season for sure."
---
About Lineage Foundation for Good
The Lineage Foundation for Good (the "Foundation") is the independent philanthropic arm of Lineage. The Foundation leverages the unique access, influence, experience and expertise of Lineage, one of the world's largest temperature-controlled logistics solutions providers, and its customers and partners to reduce food waste and fight food insecurity – a need that was accelerated by the practical challenges of getting quality food to those in need during the COVID-19 pandemic. Central to the Foundation's mission is to develop a dynamic, real-time and global link between those who commercially produce our food and the individuals, families and communities who need it most. The Foundation creates a system in which food products, including those that might have otherwise gone to waste, can be quickly and easily steered to food pantries and other non-profits combatting food insecurity around the world. The Foundation supports various philanthropic initiatives that have an impact in the communities in which we live and work, and is proud to partner with Feeding America, the Global FoodBanking Network, and other organizations to expand its reach, maximize its impact and help feed the world.
About Lineage
Lineage is one of the world's leading temperature-controlled industrial REITs and integrated solutions providers with a global network of over 400 strategically located facilities, totaling nearly 2 billion cubic feet of capacity across countries in North America, Europe, and Asia-Pacific. Coupling industry-leading expertise in end-to-end logistical solutions and innovative technology, Lineage partners with the world's largest food and beverage companies to increase distribution efficiency, advance sustainability, minimize supply chain waste, and, most importantly, help feed the world. In recognition of the company's leading innovations and sustainability initiatives, Lineage has been named a CNBC Disruptor 50 Company for three consecutive years, twice named a US Best Managed Company, named the No. 1 Data Science company, and 23rd overall, on Fast Company's list of The World's Most Innovative Companies, and was included on Fortune's Change the World list. (www.onelineage.com)
Media Contacts:
Lineage
Christina Wiese
734-608-1855
cWiese@onelineage.com