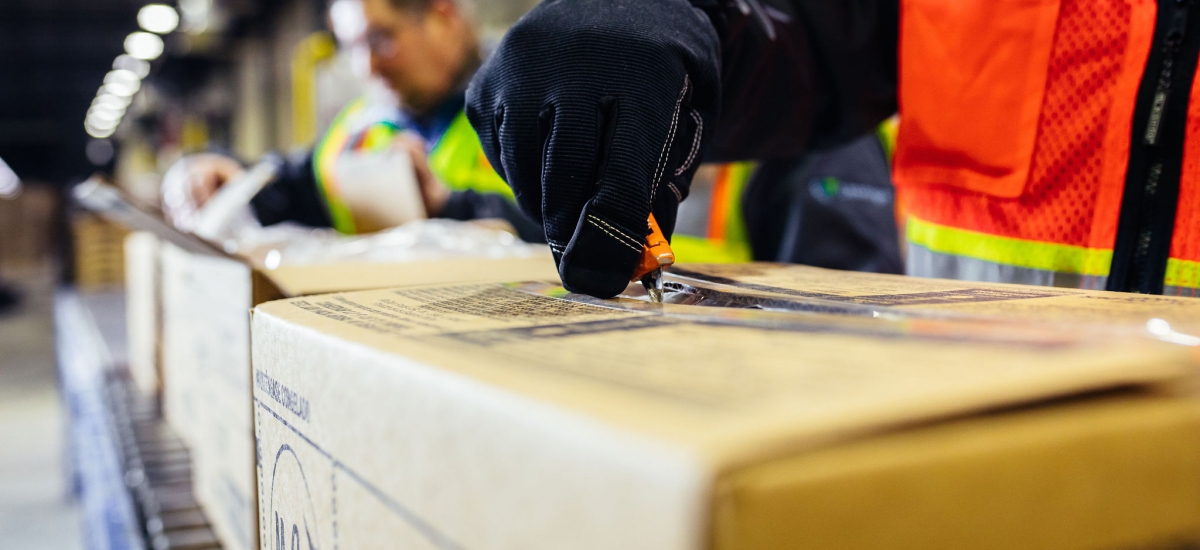 Lineage Launches Direct-To-Consumer Fulfillment Capabilities Through the Acquisition of Crystal Creek Logistics
May 20, 2021
Acquisition allows Lineage to enter a rapidly growing e-commerce space to meet increasing demand for fulfillment services from new and existing customers
Crystal Creek is one of the largest providers of e-commerce fulfillment services for direct-to-consumer frozen and refrigerated food with five US locations
Novi, MI – Lineage, LLC ("Lineage" or the "Company"), the world's largest and most innovative temperature-controlled industrial REIT and logistics solutions provider, today announced the acquisition of Crystal Creek Logistics ("CCL"), a leading, national provider of last mile drop-ship order fulfillment for frozen and refrigerated goods. Financial terms of the transaction were not disclosed.

Founded in 2008 and led by founders Cathy Hayward-Hughes and Mike Bradburn, CCL has grown from a single location in Washington State into a national logistics platform with five strategic locations consisting of over 226,000 square feet of storage space, enabling the company to provide two-day ground shipping to 97% of the US. Currently, CCL provides storage, picking, packing and shipping services enabling small to mid-size food direct-to-consumer companies to reach customers quickly and consistently.

"We are thrilled to welcome the CCL team to the Lineage family and further develop our direct-to-consumer platform as we work to meet the growing demand for fulfillment capabilities from new and existing customers," said Greg Lehmkuhl, Lineage's President & CEO. "CCL's experienced and dynamic management team will bring industry-leading operational expertise to Lineage as we build-out our fulfilment capabilities."

Lineage's acquisition of CCL will allow the Company to meet the demand for direct-to-consumer fulfilment services, which have grown significantly over the past two years. The COVID-19 pandemic has drastically accelerated consumer e-commerce buying behavior for fresh and frozen products, further advancing the need for direct-to-consumer temperature-controlled supply chain solutions. According to Inmar Intelligence, 79% of consumers have bought groceries online during the COVID-19 pandemic, a jump from 19% the year prior. 

"The vision of Lineage is to be the world's most dynamic temperature-controlled logistics company, and our acquisition of CCL brings us an important step closer to realizing that vision," said Adam Forste, Co-Executive Chairman of Lineage and Co-Founder and Senior Managing Partner at Bay Grove, which founded and manages Lineage. "Lineage's global infrastructure in major population centers worldwide positions us perfectly to expand the reach of CCL's direct-to-consumer fulfillment services while our investments in technology and automation will help enhance CCL's solution-oriented customer offering. We are confident the CCL team are the right partners as we continue our e-commerce journey."

"We have a long-standing relationship with Lineage built on mutual trust, and we saw a special alignment on our shared values and company cultures," said Cathy Hayward-Hughes, President of CCL. "We are honored to join Lineage to help achieve their purpose of helping to feed the world and are excited to bring our experience in the fulfillment space to the world's leading temperature-controlled logistics company."

MC LLP acted as a legal advisor to Lineage. Lakeside Partners acted as a financial advisor to CCL.
---
About Lineage
Lineage is the world's largest and most innovative temperature-controlled industrial REIT and logistics solutions provider, its unrivaled real estate network, and its use of technology combine to promote food safety, increase distribution efficiency, advance sustainability, lessen environmental impact, and minimize supply chain waste. As a result, Lineage helps customers ranging from Fortune 500 companies to small family-owned businesses increase the efficiency and protect the integrity of their temperature-controlled supply chain. Lineage has grown its cubic feet by 60% annually since 2008 to 2.1 billion cubic feet, making it the largest global temperature-controlled industrial REIT. In recognition of the company's leading innovations, Lineage was recognized as the No 1. Data Science company on Fast Company's Annual list of The World's Most Innovative Companies in 2019, in addition to ranking 23rd overall in an evaluation of thousands of companies worldwide. (www.lineagelogistics.com)
About Crystal Creek Logistics
Crystal Creek Logistics was founded in 2008 and specializes in fulfillment, logistics, and shipping services for direct-to-consumer ecommerce companies with perishable products. The company offers dedicated client support, sustainable operations, and innovative solutions. As a certified B-Corp, Crystal Creek is committed to socially responsible business practices. Partners of Crystal Creek have access to a leading and national system of warehouses that provide maximum reach and efficiency to reduce costs and increase efficiency which allows customers to focus more energy on growing their business.  (https://www.crystalcreeklogistics.com/).