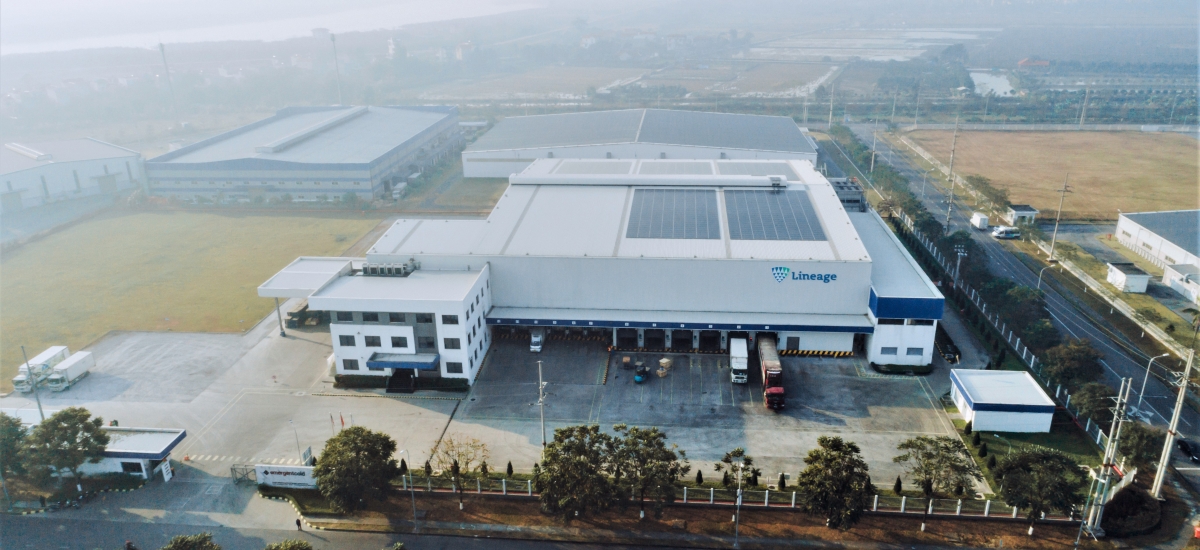 Press
//
Business Development
//
Enhancements
Surging Customer Demand Drives Major Expansion of Lineage's Footprint in Vietnam
February 22, 2022
Hanoi expansion ideally positioned to cater for growing trade between Vietnam and China and Southeast Asia





Lineage sees major potential for further expansion in Vietnam to serve growing intra-country sophisticated supply chains





Lineage pays tribute to its Vietnamese workforce for ensuring vital food supply chains remained operational during last year's Covid lockdown


 

Hanoi, Vietnam - Lineage, LLC ("Lineage" or the "Company"), the world's largest and most innovative temperature-controlled industrial REIT and logistics solutions provider, today announced it is more than doubling the capacity of its Bac Ninh, Hanoi facility.

The facility will be expanded from 8,000 to 20,000-pallet positions to meet surging demand from customers servicing Vietnam's growing perishable food sector.

The facility is used to store and distribute frozen, chilled, and ambient food products to northern Vietnam's major regional centres and store food products for export, particularly seafood.  

"The Hanoi facility expansion will further broaden our reach across Vietnam and Asia more broadly due to its prime location on the key trade routes with China and Southeast Asia," Jeff Hogarth, Lineage's President of Asia Pacific, said.

"Vietnam is a key food production and distribution hub, so this is a strategic expansion that will benefit customers across the region.

"We also see great potential for further expansion in Vietnam, given the region's under-developed cold store supply chain, growing customer demand for high quality logistics solutions and growing income levels, spurring consumption of more perishable goods."

The expanded facility will incorporate solar panels as part of the Company's ongoing commitment to sustainability.

In addition to the economic boost provided by the construction of the facility's extension, Lineage will create 50 new long-term jobs to operate the facility.  

Lineage's Vietnam team has adapted throughout the Covid-19 pandemic, including staffing two Lineage facilities in Ho Chi Minh and Binh Duong to run continuously for three months to ensure essential foods were distributed to Vietnamese citizens.

"The dedication and selflessness of our employees during this extremely difficult time allowed us to ensure the distribution of critical food supplies was uninterrupted and maintain the food supply chain throughout the lockdown," Vien Nguyen Huu, Regional Vice President at Lineage, said. 

Construction of the Hanoi expansion has begun and is due to be completed in July 2022. Lineage entered the Vietnamese market in 2019 with its acquisition of Preferred Freezer Services. The company has operations in Ho Chi Minh, Binh Duong and Bac Ninh. 
---


About Lineage
Lineage is the world's largest temperature-controlled industrial REIT and logistics solutions provider. It has a global network of over 400 strategically located facilities totalling over 2 billion cubic feet of capacity which spans 19 countries across North America, Europe and Asia-Pacific.  Lineage's industry-leading expertise in end-to-end logistical solutions, its unrivalled real estate network, and development and deployment of innovative technology help increase distribution efficiency, advance sustainability, minimise supply chain waste, and most importantly, as a Visionary Partner of Feeding America, help feed the world. In recognition of the company's leading innovations and sustainability initiatives, Lineage was listed as No. 17 in the 2021 CNBC Disruptor 50 list, the No 1. Data Science company, and 23rd overall, on Fast Company's 2019 list of The World's Most Innovative Companies, in addition to being included on Fortune's Change The World list in 2020. (www.lineagelogistics.com)

 
Media Contact:

Scott McFarlane
+61 493 119 547
scott.mcfarlane@teneo.com