Innovation
Automation is Using Software to Transform the Cold Chain
A Continuation of the Series: Automation Is
March 24, 2022
Everyone who has used home computers and cell phones is familiar with technology becoming obsolete. A consumer will buy a smartphone and a year later, technological advances render a relatively new phone inadequate. The same principles often apply to the world of automation.  By making software the soul of automation, businesses can stay agile in a constantly and rapidly evolving landscape.

Every company in our industry owns hardware. Applying the right software mix is the game-changer. The hardware, freezers, cranes, racks and forklifts of a cold chain warehouse will last when properly maintained, but innovative software maximizes the throughput and flexibility of the equipment. Emphasizing software development and integration allows our business to adapt and adjust for expansion as new customer demands or products are introduced into the system. In the past, warehousing focused on the quality of hardware. Today, emphasis should equally focus on developing the software that programs and guides automated functions.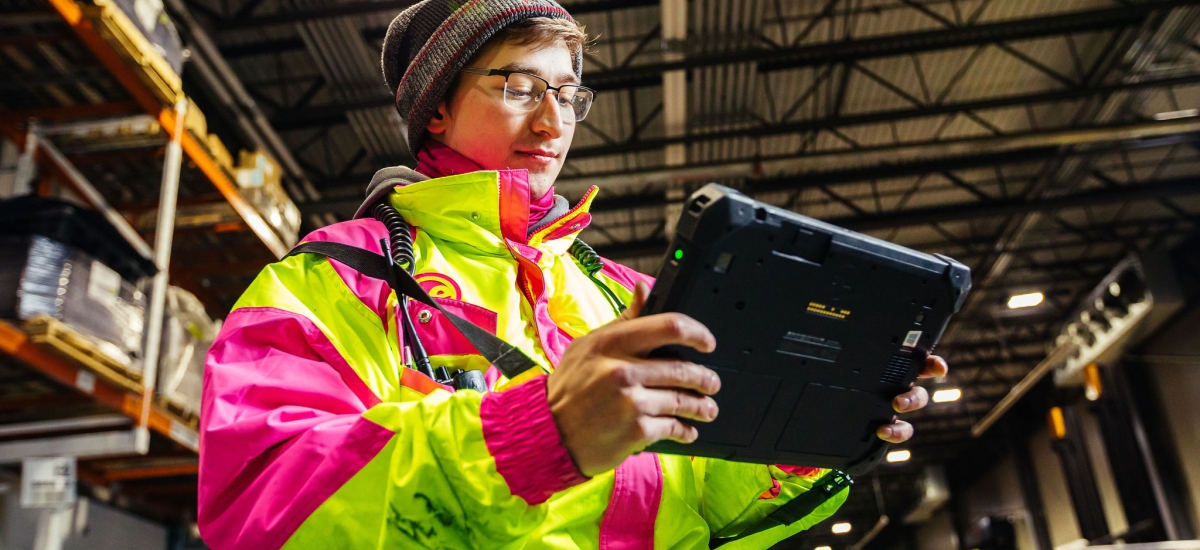 Lineage Automation in Action: Athena

Athena is our patent-pending algorithm that analyzes every current task in a warehouse with the goal of minimizing the motion of warehouse workers and preventing congestion in the warehouse, while loading and unloading trucks on time. Via Athena, we create labor out of software. Armed with an overall moving blueprint of the warehouse, Athena acts as air traffic controller, determining which team members perform each task. Additionally, our new MHE localization technology provides Athena with the locations of all MHE units.

As each forklift is equipped with a screen, tasks are sent, in real time, to our team members. Athena's dispatch decreases in-bound put-away times, allows outbound substitution for increased convenience, task selection and dock door assignment to best align with the warehouse layout. Once a truck is on-site, Athena determines the truck order, duration-of-stay prediction, truck packaging, pallet building, pick line sizing and replenishment. As we thoroughly analyze Athena's data, we will continue to see improvements through the process of algorithm refinement.

Software not only automates, it imagines.

With the increase in demand for innovation, modernization and constant change, automation will transform the industry and allow companies to pivot more than ever. Keeping our people in mind, it is important to note the cold chain will always be a customer service industry and the automation and software we bring to the forefront is in service to our customers. With these algorithms and implementations, we can ensure our investments in automation will remain relevant and continue to serve our team members, and our customers.

In addition to software, data and design, algorithms are the keys that make every facet of automation work together. Our algorithms keep warehouses moving smoothly and make a specific decision for every movement throughout the warehouse – in real time. The data input optimizes the time and effort of the equipment and available labor, making operations more efficient.

Lineage Automation in Action: Digital Twin

A great example of how we implement software and data is the Digital Twin. Simulation software allows us to determine the success of a new warehouse's design before we pour any concrete. Countless simulations allow for the fine-tuning of design and the operating software as we work through the worst-case (COVID panic-buying, anyone?) scenarios over and over to test the limits of both.

Maximizing warehouse space.

In a multi-layered automated warehouse, how do we arrange pallets to minimize unoccupied space? In response to this question, Daniël Walet, a member of the Lineage Data Science team, developed an algorithm that rearranges pallets in storage to have less dead space in the rack. The result: a 4.0% increase in net storage capacity. Every algorithm operates in a physical system. At Lineage, we design that physical system for maximum performance and maximum flexibility using data and simulation.

Reimagining the cold chain.

​​​​As the demands of every facility and customer are unique, the stress testing of each warehouse is a statistical, data-driven exercise. Algorithms and software are only as useful as the data that is entered. By being meticulous and thorough in the testing process, we open our new builds with the confidence that the facility will be able to handle anything the marketplace throws at it.

Click here to read the rest of the series: Automation Is.