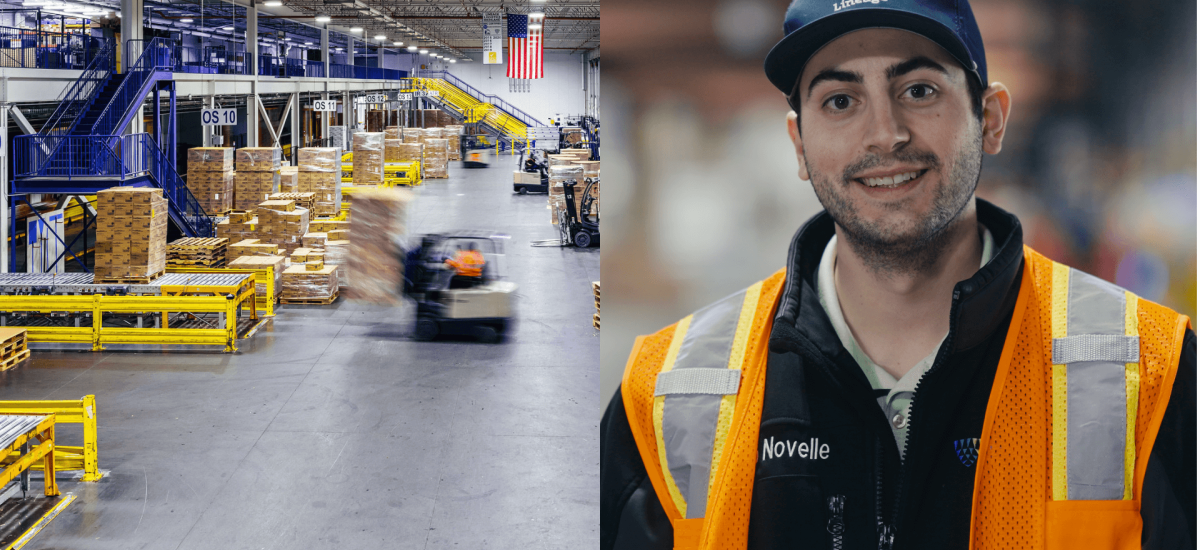 Culture
Lineage's Management Program: Jumpstart Your Cold Chain Career
March 31, 2023
We had the pleasure of sitting down with Nico Novelle, a shining example of the success that can come from the Lineage Management Program. The LMP is a 20-week, hands-on training program designed to provide early-career and high-potential individuals with a unique opportunity to learn about the cold chain industry and develop essential leadership skills. Nico, who graduated from the LMP and is now an Operations Manager at Lineage, shares how the program helped him advance and thrive in his cold chain career.
What initially drew you to the Lineage Management Program?
I really wanted to find an opportunity where I could quickly learn the various aspects of the company and the cold chain industry. I was also drawn to the unique opportunity to position myself to take that next step in my career into a broad range of possibilities, rather than being restricted to a narrow track.
Tell us a little about your LMP experience.
During my training period, I was assigned to the Geneva building where I worked the first shift under the guidance of two experienced supervisors. Their deep knowledge of the team and extensive experience with the processes helped me learn the ropes quickly. I became proficient in using the systems we used after just a few weeks and began making significant contributions to the team's operations. Demonstrating my understanding of the team's work and operating the equipment they were using were crucial in earning their respect. As a result, I became much more confident in my abilities and was able to gain their trust.
How did your direct mentors help you throughout the program?
At the beginning of the program, Mario Garay proved to be an excellent source of knowledge for me. His thorough understanding of the system allowed me to learn and grow quickly, while also removing obstacles for the team. Mario's tremendous energy and enthusiasm were infectious. His positive attitude played a big role in helping our team overcome obstacles. His leadership and enthusiasm continue to have a lasting impact on me to this day.
Did you have exposure to senior and executive leaders?
We had several one-on-one meetings with senior and executive leadership, and I'll never forget some of the advice and lessons I was able to learn from them. The self-motivating mantra of "rise and grind" is something that really stuck with me and helped me power through those early morning shifts. I'll also never forget the advice, "focus on being the hardest worker in the room, not the smartest person in the room". The entire experience was inspiring and memorable, and it helped reinforce the values that Lineage embraces.
What specific roles did you experience during the rotation?
Most of my rotation took place in the operations group, where I had the opportunity to learn from and shadow experienced supervisors. I particularly enjoyed collaborating with the inventory team, and Jasmine Arredondo's guidance and expertise proved invaluable. Her willingness to share her vast knowledge and insights not only helped me improve my skills but also really helped build my confidence within these systems and tools.
What critical skills did you learn/develop throughout the program that you use today?
The LMP program taught me invaluable skills in emotional intelligence and the importance of delivering everyday feedback, which proved to be crucial in my current role. I gained insights on how to handle challenging situations, effectively lead highly-experienced teams and tailor my communication style based on personality types. These skills have been essential in my success within my role at Lineage.
What were your goals going into the program?
Initially, my goal was to independently manage the shift and building operations without the presence of any other leadership, which I achieved within six weeks. My long-term goal was to transition into a managerial role within two to three years of commencing the program, and I am pleased to say that I accomplished this objective as well.
Is there anything you got out of the LMP that was a pleasant surprise?
I would say the level of confidence I gained took me by surprise. With so much exposure to the entire network, leadership, my mentors and the tools we worked with, I felt almost invincible.
Has your career path changed since completing the program?
Absolutely! I am confident I would not have had anywhere near the same amount of exposure, experience or upward mobility without the network of support I gained from the LMP.
What advice would you give those considering the LMP?
Before fully committing to a role in cold storage, it's important to have a clear understanding of the environment you'll be working in. The job can be challenging. Having to address issues within the cold temperatures of the warehouse can be a shock if you don't know what to expect. It isn't glamorous and you likely won't have a luxurious, corner office right away. However, if you're someone who thrives on being busy, finding creative solutions to problems and leading teams, then this can be an excellent way to jumpstart your career.
How would you sum up the program in one word?
Propelling.
Jumpstart Your Career
The Lineage Management Program provides a unique opportunity for early-career and high-potential individuals to learn about the cold chain industry and develop essential leadership skills. Nico Novelle, an Operations Manager at Lineage and LMP graduate, shared his experience and how the program helped him advance in his career. Through hands-on training, exposure to senior and executive leaders and a rotation of different roles, Nico gained valuable skills. From emotional intelligence and communication to leadership and problem solving, these skills proved crucial to his success. The LMP is a propelling program that can jumpstart a career for those who thrive in a fast-paced work environment, finding creative solutions to problems and leading teams.
The 2023 program begins Monday, June 2nd and will go until Friday, October 20th. Find out how you can join our upcoming cohort today by searching for Lineage Management Program on our careers page. For Lineage team members, check the internal opportunities in the career section on Workday.