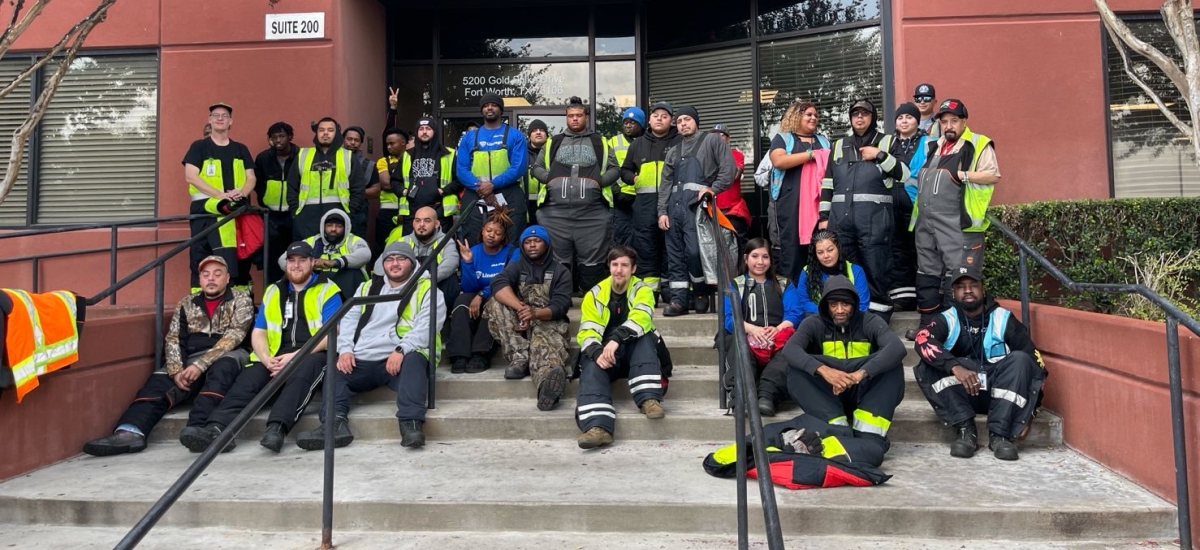 Trusted Partner
//
Culture
The Path to Platinum: LEANing into a Culture of Continuous Improvement
November 09, 2023
In the dynamic landscape of warehousing and supply chain management, LEAN thinking provides companies with the tools to streamline their operations and enhance value. The LEAN philosophy originates from innovative visionaries and captains of industry, like Henry Ford, Kiichiro Toyoda and Taiichi Ohno, providing a revolutionary approach centered around maximizing customer value by minimizing waste. It's the foundation of a cultural shift that encourages organizations to operate more efficiently by identifying and eliminating waste, leading to continuous improvement. At the heart of this narrative is the journey of Lineage's Fort Worth - Gold Spike facility toward achieving LEAN's Platinum certification. This site's transformational tale sets the stage for how we're integrating LEAN thinking into every fiber of our operations and pushing beyond traditional boundaries to set a new standard in operational excellence at Lineage. 
LEAN Essentials
The core of LEAN is a mindset of continuous improvement through the elimination of waste. It's all about doing more with less. At Lineage, we use the LEAN philosophy to study our operations, allowing us to diagnose wasteful actions and processes and then remove them. It's all in the spirit of ensuring every part of the job adds something valuable for the customer without wasting time, materials or effort. It's like tidying up a cluttered desk so that everything you need is within reach, making work smoother and more efficient.  
LEAN is best summarized by the five main principles and eight examples of waste: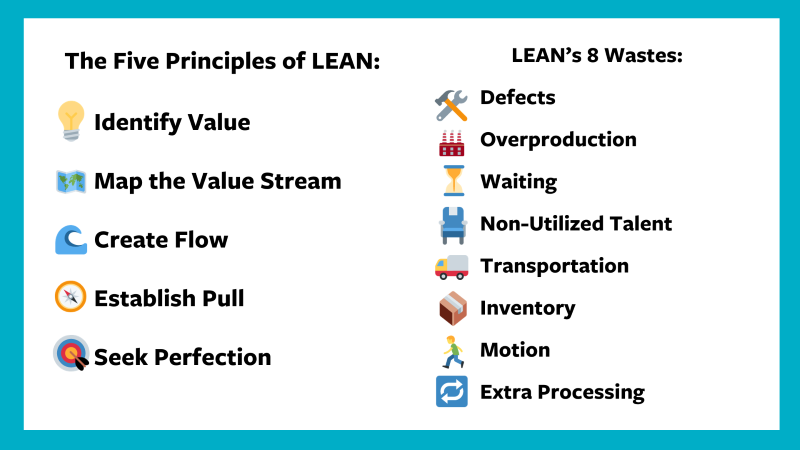 Building a Culture of Continuous Improvement with LEAN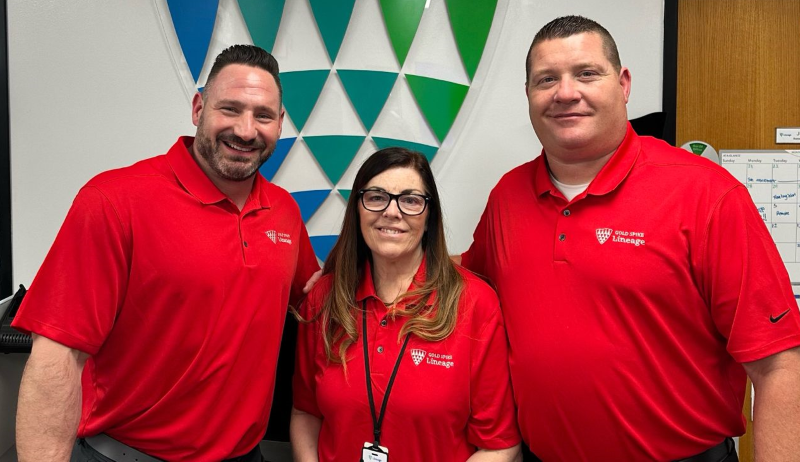 Lineage's LEAN success starts from the ground up. LEAN philosophy seamlessly integrates with our core values, where servant leadership and trust aren't just words—they're guiding principles that strengthen our team and reinforce our culture. It's all about empowering each individual, from site leaders to hourly team members, to have a voice and a stake in our journey of continuous improvement. 
Casey Coley, general manager at Lineage's Fort Worth - Gold Spike facility, says, " At Lineage, LEAN success ultimately comes down to a culture of servant leadership and genuine trust in the capabilities and insights of our team members. Creating a 'License to Lead' with the team creates problem solvers, and problem solvers get things done instead of simply reporting the issues they are facing." 
New team members are immersed in LEAN thinking from day one, ensuring they absorb the methodologies and the culture that makes it thrive. Every team member is encouraged to speak up and seek out solutions and improvements, providing us with a clear picture made up of a wide variety of perspectives. Lineage's LEAN story is lifted by a chorus of empowered voices. It's where the experienced guide the eager and where hourly team members are the vanguard of innovation.  
A LEAN Odyssey at Lineage
The LEAN odyssey of Lineage's Fort Worth - Gold Spike facility is a story of steady growth and continuous improvement. It's a journey marked with milestones, both big and small, that signify progress and a shift in the way we work together. This journey led to Gold Spike becoming Lineage's first site to achieve the platinum certification in LEAN, setting the standard for continued excellence. 
Awareness Phase (January 2018 - June 2018)
Gold Spike's LEAN journey began in January 2018. The initial six months were dedicated to building a solid foundation of LEAN awareness. Education and engagement were the primary goals, leading to bronze certification by June 2018—a quick win that cemented the belief in the power of LEAN methodologies within the facility. This phase set the benchmark from which they would grow. 
Basics Phase (June 2018 - November 2019)
The Basics Phase focused on fundamental LEAN principles. During this period, Gold Spike harnessed the power of LEAN tools like Kaizen events—LEAN's seven-step problem solving process—to engage the entire team to identify opportunities and streamline operations. They developed continuous improvement roadmaps (CIRs) to set goals and visualize the journey. With LEAN tools in place, they made significant strides, like improving on-time service by 30%. After nearly 18 months of persistent work and dedication, the team attained silver certification in November 2019. 
Stabilization Phase (November 2019 - June 2021)
The next phase built on their success and momentum by focusing on stability and consistency. It was during this time that the facility's practices matured, ensuring that improvements were not just one-off victories but sustained successes. They continued to use Kaizen events to further optimize processes and tailored their CIRs to their future goals. Over this time, they improved on-time service by another 18% and optimized warehouse capacity by 22%. The gold certification they achieved in June 2021 was a testament to the team's universal buy-in of LEAN practices and philosophy. 
Growth Phase (June 2021 - August 2023)
The Growth Phase represented a period of deepened LEAN integration. They continued building on their successes from the past 3 years, achieving even greater results. By breaking down processes to their simplest parts the team was able to identify even more opportunities for improvement. This led to them decreasing their receiving time by 50% and increasing their total trucks turned from around 35,000 in 2021 to 40,000 in 2023. The facility's commitment to a culture of continuous improvement led to the achievement of platinum certification in August 2023—the highest LEAN certification achieved by a Lineage facility. 
Forging Ahead with LEAN
Fort Worth - Gold Spike's story is only one of many from around the Lineage network. While they were the first to achieve LEAN platinum certification, they certainly won't be the last. This triumph is not the end of their journey, but a step along the path of continuous improvement. Each phase of the journey, from bronze to platinum, has been a stepping stone, with the entire team at Gold Spike proving that when unified by the LEAN philosophy, exceptional results follow. 
Looking ahead towards the next hurdle, diamond certification, the Gold Spike team continues to find opportunities for improvement. Lineage's culture of innovation, where the quest for excellence never ends, means we'll never be stagnant. We're always looking towards the future with efficiency and optimization as our guiding principles.