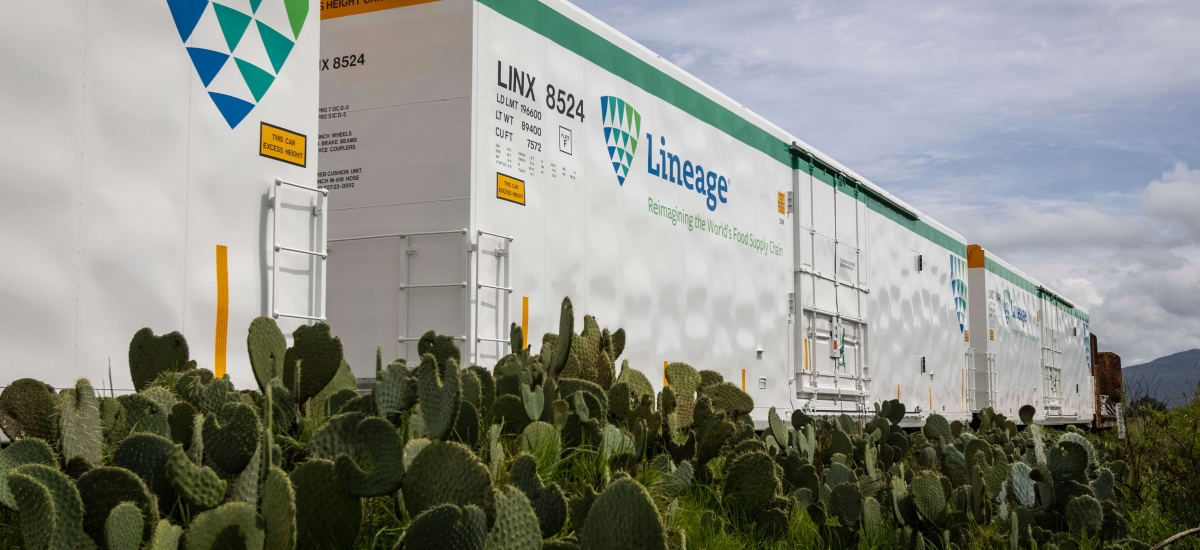 Trusted Partner
Consider Adding Rail to the Transportation Mix
Managing Complexity for Maximum Value: Getting more value out of your supply chain
March 23, 2023
Welcome back to our series, Managing Complexity for Maximum Value, where we aim to help you optimize your transportation strategies to achieve greater efficiency and profitability in your supply chain. In the previous week, we discussed the importance of leveraging the right transportation modes to optimize your network and reduce transportation costs. Now, we will delve deeper into a specific transportation category – rail.
As a leading provider of temperature-controlled logistics solutions, Lineage understands the challenges facing the transportation industry. Fluctuating fuel costs, rising labor costs and ongoing driver shortages are forcing many companies to look for new (or old) ways to diversify their transportation portfolios. That's why we're recommending rail as an increasingly attractive option for many of our U.S. customers to help reduce costs and improve efficiencies.
Rail Benefits for Your Business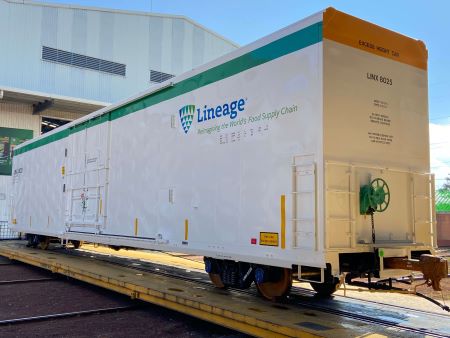 Rail transportation offers significant benefits, especially when combined with data-driven transportation management solutions. In fact, according to Lineage President and CEO Greg Lehmkuhl, "customers could reduce transport costs by 15–40%, depending on the shipment size and distance traveled."
Rail offers a strong complement to existing transportation portfolios, providing cost savings and efficiencies while also reducing their overall carbon footprint. One of the major advantages of rail comes down to cargo capacity. Rail cars hold an average of 4x the cargo capacity of a typical over-the-road trailer. This makes it an ideal option for companies who deal in large shipments.
With Lineage embarking on our Journey to Net-Zero carbon emissions by 2040, sustainability is a major focus for us and another great reason to add rail to your transportation portfolio. Trains are a much more sustainable and fuel-efficient option when it comes to transporting goods across the country. A single gallon of diesel fuel can move a ton of cargo 470 miles over rail. Railways also consume 9x less energy per ton-mile than trucks, giving you a greener option for your transportation needs. Freight trains emit 75% fewer greenhouse gasses and account for only .5% of all U.S. GHG emissions in a given year. Whereas medium and heavy-duty trucks account for 25% of all U.S. emissions.
On the Right Track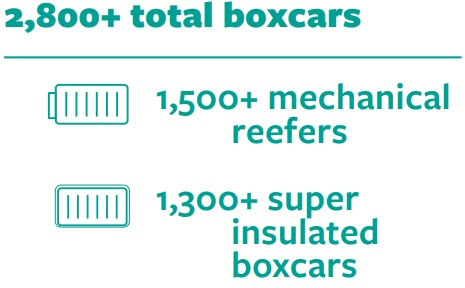 Lineage customers enjoy unique benefits when it comes to rail transportation options. We've invested in a large private fleet of refrigerated and insulated boxcars that includes over 2,800 boxcars. The availability of our freight fleet enables customers of all sizes to integrate rail transportation into their supply chain without having to worry about day-to-day maintenance or other operational issues related to operating a private rail fleet.
We offer two types of temperature-controlled equipment, mechanical reefers and super insulated boxcars, suitable for an array of customer products. We work with each of our customers to determine what type and how many railcars they need. We even design and create specific railcar modifications to better suit the unique needs of their products. In addition to temperature sensors, every railcar is equipped with GPS and door sensors to provide real-time tracking information for every car.
With rail connections at an industry-leading 80 ports (and growing), plus more than 340 strategically located warehouses nationwide, Lineage is uniquely capable of providing robust rail services to our customers. This allows us to leverage the best rail has to offer, making it a great time to consider how Lineage can optimize your supply chain with our private rail management solutions.
Diversify Your Supply Chain with Rail
Partnering with Lineage allows our customers to avoid the pitfalls surrounding rail. Concerns with product tracking or having access to the right railcar when you need it are eliminated by Lineage's unique offerings, including our private fleet and industry-leading network of warehouses and port locations. Incorporating rail into your overall transportation strategy and working with a logistics partner that can mitigate the risks while maximizing the benefits are the keys to success.
By leveraging our private rail management solutions, Lineage helps our customers diversify their transportation portfolios, reduce costs and improve efficiencies, all while reducing their carbon footprint. As a trusted partner, we are committed to helping our customers navigate the ever-changing logistics landscape and stay ahead of the curve.
Be sure to check in next week as we continue our transportation series with our next installment: Data Modeling for a More Connected Cold Chain.