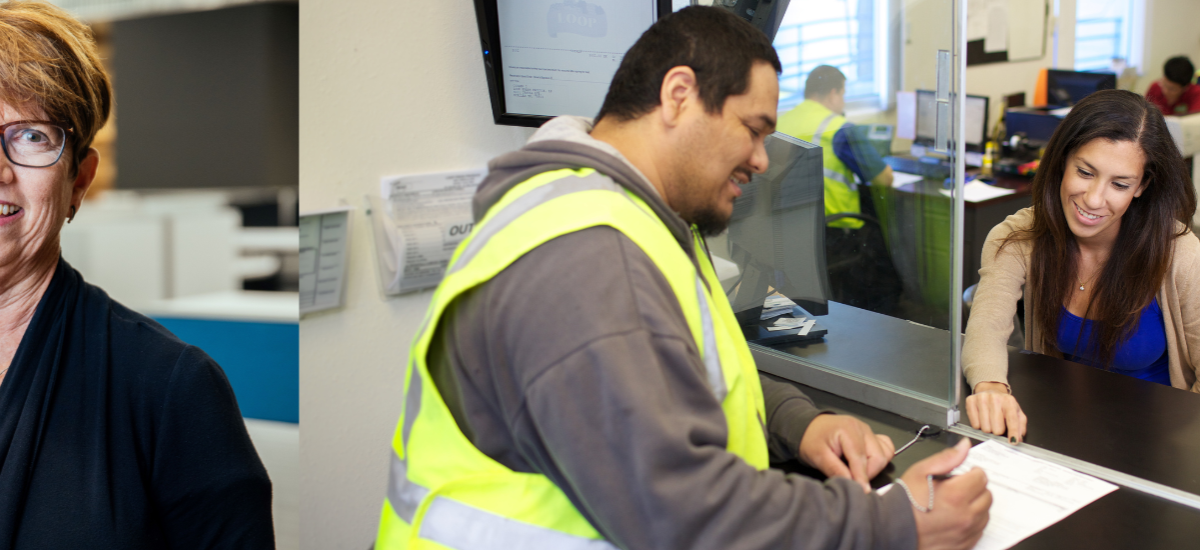 Culture
A Global Hiring Day Exclusive with Susan Williams
September 05, 2023
September 20th marks Lineage's highly anticipated Global Hiring Day; a day that will see many of the warehouses across our global network holding simultaneous hiring events. To kick things off, we sat down with Susan Williams, our director of talent acquisition and one of the leaders behind the Hiring Day festivities. In this Q&A, Susan sheds some light on the warehouse careers at Lineage; emphasizes the company's core values of safety, trust, respect, boldness, innovation, and servant leadership; and highlights the abundance of opportunities for those eager to join our frontline teams. Read on to discover what makes a career at Lineage so special. 
For those considering hourly warehouse positions at Lineage, what makes the company stand out from others in the industry? 
At Lineage, every team member plays a pivotal role in the journey of our food from farms to dinner tables all around the world. When you join our team, you become a frontline worker in the global food supply chain. With every responsibility that these roles demand, know that our commitment to supporting and looking out for our team is even stronger. There are plenty of reasons why Lineage is an awesome place to work, here are a few: 
Competitive wages 
An impressive benefits package 
An inclusive and vibrant work culture 
A Leadership mindset rooted in values like safe, trust, respect, bold, innovation and servant leadership 
A stable industry with vast growth and career opportunities 
Flexible shift patterns 
How does Lineage empower its team members to grow and develop within the organization? 
We are fiercely dedicated to the growth and advancement of all our team members, especially those on the front lines in our warehouses. Through cross-training, active participation in key development initiatives and transparent career paths, our team members have a world of opportunities awaiting them. Our yearly performance reviews offer a structured dialogue with leaders, ensuring that aspirations are heard, goals are met and advancement pathways are charted. 
Can you share any standout success stories of warehouse team members advancing within Lineage? 
Absolutely! We've seen numerous success stories, but some recent standouts are from our 2022 National Hiring Day recruits. Some of them, who began as general warehouse workers, now hold the title of Warehouse Leads. This transition wasn't just about time—it was about their dedication to best practices, outstanding customer service and sheer quality of work. We believe that constant communication—whether through informal chats, Individual Development Plans (IDPs) or annual performance reviews—is our recipe to guide team members toward their career dreams. And to facilitate this, Lineage offers a plethora of opportunities and resources. 
How does Lineage cultivate a diverse and inclusive environment for all its employees? 
Diversity and inclusion are more than buzzwords for us—they are embedded in our DNA. We've established six Employee Resource Groups (ERGs), aiming to represent a diverse array of voices, backgrounds and perspectives. Our Talent Acquisition team has a seat at the table in every ERG, ensuring our hiring strategies mirror our commitment to diversity across all levels at Lineage. 
Moreover, by operating through our core values—particularly safe, respect, bold and innovation—we foster a collaborative environment where everyone contributes and continuously pushes the organization forward. 
Can you shed light on the roles Lineage is keen on filling and what newcomers can expect? 
The spotlight, undoubtedly, is on our frontline warehouse teams. Roles in this realm are critical because they help determine our success in meeting customer expectations. However, joining Lineage is not about being pigeonholed into one role. New team members will find ample opportunities to cross-train, acquire new skills and be self-starters. With our consistent growth, new opportunities are always on the horizon.  
Top Positions to Fill at Global Hiring Day Include: 
General warehouse workers 
Case pickers 
Shipping & receiving operators 
Forklift operators 
High-reach forklift operators  
Picker packers 
As a leader in Talent Acquisition, any pearls of wisdom for people looking to join Lineage? 
Success at Lineage is rooted in a strong work ethic, unwavering reliability and maintaining a positive outlook—even when the going gets tough. If you're driven to be a part of a cohesive unit that takes pride in its endeavors and rejoices in its victories, Lineage is where you should be. Whether you're looking for growth, development or stable employment to support your family, Lineage stands out as the employer of choice. 
Join the Lineage Hiring Event on September 20th 
As the countdown to Global Hiring Day begins, it's clear that Lineage isn't just offering jobs—it's extending invitations to be part of a transformative career journey. With a stellar workplace culture, tons of growth opportunities and a mission that impacts the global food chain, the future is bright at Lineage. Mark your calendars for September 20th and sign up at your local Lineage facility to seize the chance to be part of something truly exceptional!
Sign Up for Global Hiring Day Now: