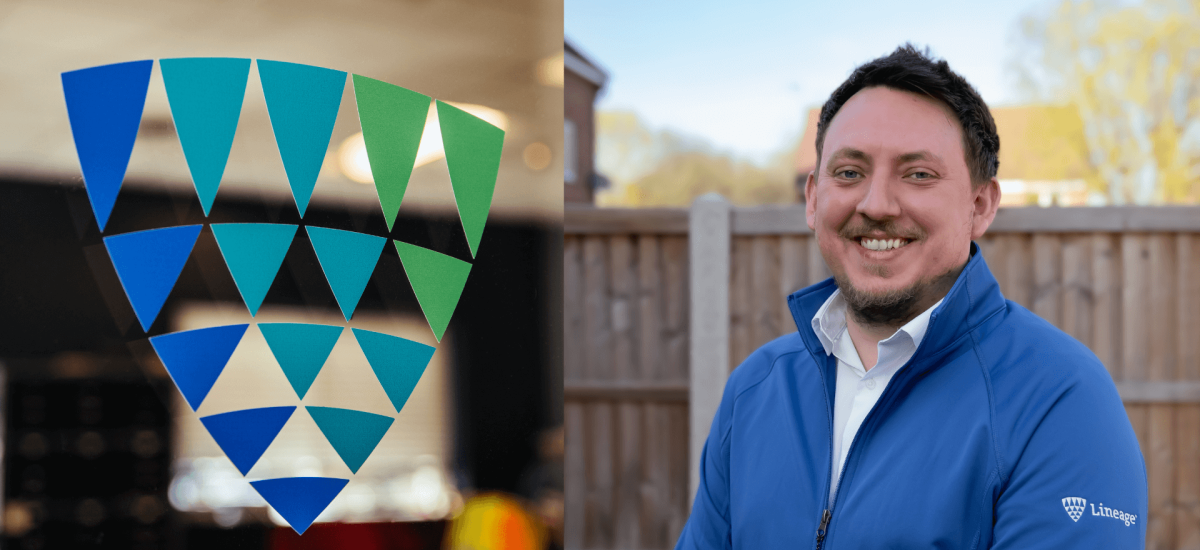 Culture
Lineage's Management Program: The Career Defining Opportunity You've Been Looking For
April 07, 2023
In the final installment of our series on the Lineage Management Program (LMP), we had the honor of speaking with Nathan James, an Operations Manager at Lineage Newark, UK. Nathan is a testament to the success of the LMP, a comprehensive training program designed to equip early-career and high-potential individuals with the knowledge and skills necessary to excel in the cold chain industry. Join us as Nathan shares his career defining moment with the LMP and how it helped him develop as a leader and advance his career in the industry.
What drew you to the LMP?
I was actually handpicked for the LMP by the UK leadership team. I'm always seeking out new challenges and new opportunities, especially when that involves exposure to new leaders and cross-departmental learning. I was selected for the program because I supported my facility through a really challenging time following the COVID-19 pandemic. I showed the right values and the right skills along with having an ambitious outlook; it's because of this that I believe I was selected for the program.
Tell us about your experience with the program.
Since my background was already in operations, I focused most of my time in the individual training sessions to hone my skills and learn new ones. Part of the experience gave me the opportunity to travel to another one of our UK sites, which was experiencing a challenging time following the implementation of a new warehouse management system. This was a great opportunity for me to join the team for a short period and test my knowledge and experience while helping to solve the problem.
In what ways did your direct mentors influence your success?
I was surrounded by people who supported and developed me throughout the program. At the time, the UK leadership team recruited a new General Manager for my site. Fortunately for me, both the new GM and the previous GM, who remained onboard during the transition, were incredibly supportive throughout the program. It may sound a little cliché, but my line manager is my mentor. My line manager had recently finished a level 6 (Bachelor's Degree) in Operational Leadership and Management, so my manager had the right knowledge, skills and behaviors to help me through my journey. I was encouraged to be disciplined with my time management and to link the training sessions to my own personal role within the business.
What goals were you working towards?
I was working towards an operations Manager role. I felt the LMP was the perfect path for achieving this goal. This program helped me refine my own skills, knowledge and behaviors which then lined me up for a smooth transition in the new role. My goals were simple: enhance my knowledge of other departments, including but not limited to finance, project management, engineering, HR, Marketing and Commercial.
What challenges did you face?
Time management was the single biggest challenge I faced during the program. In all honesty, I fully expected it because it's one of the biggest challenges we all face. We cannot pause or reverse time, and our busy roles require time management and proper coordination to complete our tasks.
How did the LMP better prepare you for your current role?
Managing my existing role (Operations Support Manager), supporting my General Manager in his early stages with Lineage, supporting our customers and fulfilling my role within the LMP all at the same time was incredibly challenging. However, learning the importance of time management has helped me in my new role and will continue to help me in the future. Only by becoming disciplined with your time can you fulfill all your obligations successfully, while still maintaining a healthy home life balance and not running the risk of becoming too burnt out, something I learned very early on.
What critical skills did you learn/develop throughout the program that you use today?
Time management was crucial and continues to help me today. I also learnt a lot about diversity and inclusion, including the differences between equity and equality and how it links to my role and my responsibilities. The LMP taught me about the importance of building confidence and having the courage to make tough decisions as a leader, this helps me to this day.
Has your career path changed since completing the program?
Very much so! Following my graduation, I was granted the role of Operations Manager and, at a relatively young age, this was a very proud moment for me. The LMP gave me a new level of confidence, and the exposure to all the other areas of the business helped me determine where I wanted to go in my career.
What advice would you give someone considering the LMP?
If you feel like you can offer more to Lineage, you want to better understand the organization, or you're just really ambitious and wish to grow your own knowledge, refine your skills and build on your behaviors, then the LMP is for you. So long as you're prepared for a healthy challenge, your confidence will grow, your exposure to leaders will grow and it could well become that career defining moment you've been looking for.
Sum up the program in one word.
Effective.
Define Your Moment
The Lineage Management Program offers a unique opportunity for individuals to acquire the skills and knowledge needed to succeed in the cold chain industry. Both Nico Novelle and Nathan James, Operations Managers at Lineage and LMP graduates, shared their experiences with the program and how it helped them develop their leadership skills. With a focus on hands-on training, exposure to senior leaders and rotating through different roles, the LMP equips individuals with valuable skills such as time management, emotional intelligence, communication, problem solving and leadership. The program has proven to be a launching pad for career advancement in the industry.
If you're interested in joining the next cohort, search for the Lineage Management Program on our careers page or check the internal opportunities section on Workday for Lineage team members. The 2023 program starts on Monday, June 2nd, and runs until Friday, October 20th. Don't miss out on this fantastic opportunity to accelerate your career with Lineage!